Double Indemnity Structure
Double Indemnity Structure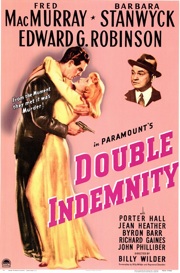 Details
Related products
Customer feedback
Related
Walter Neff's narrative is an unintrusive and non-redundant addition to the movie. It gives additional insight into Neff's psyche as well as becoming part of the resolution. The Screenplay Summary captures how to build tension through anticipation (e.g. delay of Mr. Detrichson's train journey, Keyes' suspicions about Phyllis), how complications raise the stakes (Keyes realizes someone impersonated Mr. Detrichson on the train) and where to reveal betrayal (Phyllis' relationship with Zachetti). Double Indemnity is a classic to emulate. Billy Wilder and Raymond Chandler's script is one of the best and a model for many film noir and femme fatale films.

The Act III Sequence breakdown of Double Indemnity is used to discuss the principles of Sequence structure on this site.
Customer Reviews
There have been no reviews for this product.