1 Heyes - Journal of Screenwriting
1 Heyes - Journal of Screenwriting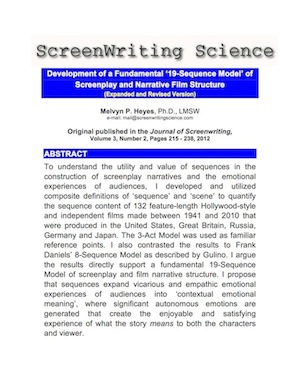 Details
Customer feedback
Related
Journal of Screenwriting, Volume 3, Issue 2, pages 215-232 (2012): 'Development of a fundamental '19-Sequence Model- of screenplay and narrative film structure'.
Abstract
To understand the utility and value of sequences in the construction of screenplay narratives and the emotional experiences of audiences, I developed and utilized composite definitions of 'sequence' and 'scene' to quantify the sequence content of 133 feature-length Hollywood-style and independent films made between 1941 and 2010 that were produced in the United States, Great Britain, Russia, Germany and Japan. The 3-Act Model was used as familiar reference points. I also contrasted the results to Frank Daniels' 8-Sequence Model as described by Gulino. I argue the results directly support a fundamental 19-Sequence Model of screenplay and film narrative structure. I propose that sequences expand vicarious and empathic emotional experiences of audiences into 'contextual emotional meaning', where significant autonomous emotions are generated that create the enjoyable and satisfying experience of what the story means to both the characters and viewer.
Customer Reviews
There have been no reviews for this product.