Dante's Peak Structure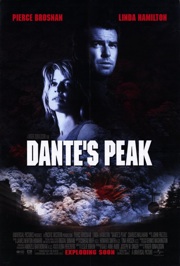 Details
Related products
Customer feedback
Related
A short Prologue is used to establish the emotional motivations of the main character, Harry.

Act I establishes the emotional link between Harry and Rachel, and the rising threat to the town (and to Rachael's children and grandmother) from Dante's Peak. Similar to Jaws, the Town Council are reluctant to admit the danger from the volcano. Note the foreshadowing of the mine and beacon they will use to escape.

Act II consists of the effective and believable challenges from the volcano for the townsfolk and the vulcanologists to escape. Predictably, Rachel's children try and rescue their grandmother from the slopes of the volcano, leaving Harry and Rachel to rescue them.

In Act III, although Harry succeeds in finding shelter in the old mine and activates the location beacon, Harry must still wait for rescuers to get them out of the mine. In the case of Flightplan, Jaws and Alien, the protagonists are themselves the people who accomplish all of the rescue.
Customer Reviews
There have been no reviews for this product.