About a Boy Structure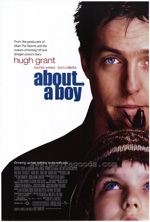 Details
Related products
Customer feedback
Related
Act I establishes that Will is, indeed, "Really that shallow", and basically does very little to advance himself or get involved with other people's lives or problems. That is until he meets Marcus and his suicidal mother. The plot has two components: the increasing attachment Will develops for Marcus and Will's relationship with Rachel (romantic comedy format love story). Will's lies about Marcus being his son serves as the catalyst for Rachel to reject Will at the end of Act II (classic Plot Point B). Act III becomes how Will protects Marcus from humiliation and commits to their relationship and how Will will reconcile with Rachel. The plot points parallels Martian Child and Raising Helen .

About a Boy is one of the few films to use a double narration where we hear Will's and Marcus's voice to contrast their viewpoint of their situations.
Customer Reviews
There have been no reviews for this product.