When Harry Met Sally... Structure
When Harry Met Sally... Structure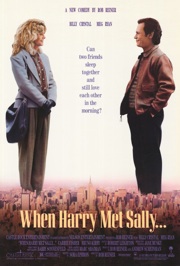 Details
Related products
Customer feedback
Related
When Harry Met Sally...starts with the McGuffan question: "Can two friends sleep together and still love each other in the morning?" This gives us an extra reason for paying attention beyond the already witty dialogue, and personal appeal of Meg Ryan and Billy Crystal. Nora Ephron's screenplay was nominated for an Academy Award. The Sequence-Scene Structure Summary comes with a free PDF download of a revised screenplay.

When Harry Met Sally... extends over 12-years and presents a 'slowly-falling-in-love' scenario. Note how Ephron makes the large gaps in time vanish by separating many Sequences with documentary-style interviews with couples who have been in relationships for a long time. The vignettes of time a clearly delineated into Sequences. Compare this technique with Woody Allen's approaches in Annie Hall - direct addresses to the camera, memory flashbacks, voice-overs (Dirks, AFI). The Screenplay Summary of When Harry Met Sally... captures the places where key plot turning points are located and makes understanding the structure of the screenplay much easier.
Customer Reviews
There have been no reviews for this product.