National Treasure Structure
National Treasure Structure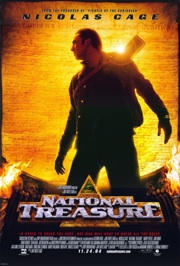 Details
Related products
Customer feedback
Related
National Treasure is a prime example of how every Sequence and Scene is essential for the story narrative. Each Sequence is a new clue, change in location or action.

The Prologue sets the tone and expectation of the pace. Act I establishes that Ben Gates must steal the Declaration of Independence and the conflict between his nemesis, Ian Howe. After stealing the Declaration and meeting his love interest in the first four Sequences of Act II, Ben establishes at the mid-point that he must use information contained in the Dogood Letters in Philadelphia. In the remaining four Sequences of Act II, Ben learns he must enter Trinity Church. In the Sequences of Act III, Ben finds the treasure and escapes from Howe. We only get to rest in the Resolution Sequence.
Customer Reviews
There have been no reviews for this product.