Liar Liar Structure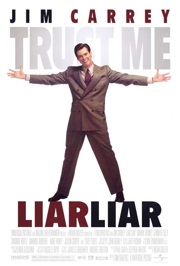 Details
Customer feedback
Related
Although a vehicle for Jim Carey's manic comedy style, Liar Liar is an excellent example of a script based on a, 'What if.....' scenario. Here, 'What if a boy's wish that his lawyer father was unable to lie to him came true?' Other comedians would physically interpret the script differently, (e.g. Robin Williams or Roy Schnieder), but the emotional impact of the script remains due to its structure. Analogous 'What if.....? have been employed many times: Freaky Friday, Hot Chick, 18 Again, 17 Again, Big, 13 Going on 30, All of Me..... Their Sequence structures are very similar.

The four Sequences of Act I establish the reason behind the 'no lies' wish of the son and demonstrates the consequence of the wish coming true. The first four Sequences of Act II, initiates the sub-plot around Carey's ex-wife considering leaving the city with their son and exploits more examples of the consequence of being unable to lie. The Mid-Point sequence demonstrates that the 'no lie' curse cannot be rescinded. The four sequences of the second half of Act II take us through the trial and bring us to the concluding Sequence of Act II which focuses attention on the importance of the relationship between and parent and their children. Carey's character realizes this too. After winning his case, Carey focuses on willing his son back in the four sequences of Act III. The resolution Sequence follows up on the family's situation one year later.
Customer Reviews
There have been no reviews for this product.