Four Weddings and a Funeral Structure
Four Weddings and a Funeral Structure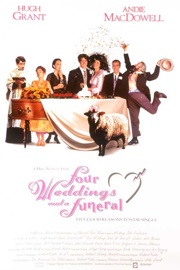 Details
Related products
Customer feedback
Related
Four Weddings and a Funeral is a very well constructed script with a simple storyline. There are quite a few characters to keep track of: Charles, Carrie, Tom, Fiona, Matthew, David, Scarlet, Matthew, Garret and Henrietta. Each serves as an emotional tool for Charles and the audience. Dead Poets Society is similar from the number of characters to follow perspective.

The Sequence structure has classic a romantic comedy progression superimposed on a series of one-joke focused Scenes. It is very well done. The screenwriters use a very effective foreshadowing of Charles being told to say: "I do" in response to any question he is asked at a wedding. "I do" is effectively the culmination of the Act III Climax and sets up the Resolution Sequence.
Customer Reviews
There have been no reviews for this product.