Dersu Uzala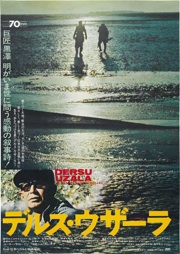 Details
Customer feedback
Related
Another Kurosawa masterpiece. Dersu Uzala is a beautiful story about a the development of a deeply respectful friendship between a Russian explorer and a Goldi tribesman. It wouldn't be too difficult to transform the Siberian forests and tundra into any environment on earth - Manhattan, the Himalaya, the Southern Ocean or your own neighborhood. There is a distinct mentor-student relationship too.

The Prologue sets the tone of the film and what a life Dersu led! Act I takes us through how Dersu and Captain Arseniev meet and their early experiences exploring the Ussuri region of Siberia. Act II has a clear mid-point when Dersu and Arseniev part company for the first time. Both halves of Act II contain a Sequence where Dersu saves Arseiev's life. Act III sees the physical deterioration of Dersu and Arseniev's tragic decision to bring Dersu into 'civilization'.
Customer Reviews
There have been no reviews for this product.
Screenplays
Extensive internet searches have failed to locate any draft or shooting script of
Dersu Uzala.
If you know of one, please write to
mail@screenwritingscience.com
. The Screenplay Summary is the closest presentation of the structure of this script.
The Screenplay Summary comes with a free download of the dialogue transcript (for educational purposes).