Brokeback Mountain Structure
Brokeback Mountain Structure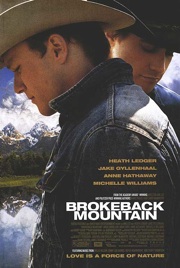 Details
Customer feedback
Related
In his book, 20 Master Plots and How to Build Them, Ronald Tobias notes that homosexual love is often treated as one of the 'Forbidden Love' story plots. Brokeback Mountain is based on this model. The setting of the story in 1963 and the remote area they retreat to (high on the desolate Brokeback Mountain) magnifies the threat from the outside world.

The Screenplay leaves largely unsaid the inner conflicts of the characters, particularly Ennis, but the Sequence structure of the story narrative takes us from the isolation of the Mountain relationship to the harsh realities of the real world. The audience is left to determine their torment and angst through empathy. Act II consists of 15 Sequences, 30 % more than the average screenplay. The first half deals with how Ennis and Jack respond to their new relationship. The second half deals with how Ennis and Jack handle their relationship after they return to the outside world. Note how Act III is short and brings us quickly to resolving what happened to Ennis and Jack. It needs to be, because the end of Act II establishes that their relationship cannot be free and open, and that Jack has begun a second relationship. There would seem to be no future for Ennis and Jack together.
Customer Reviews
There have been no reviews for this product.