High Noon Structure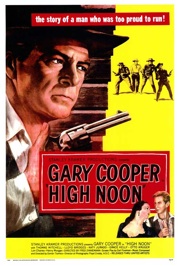 Details
Customer feedback
Related
The sequence-scene structure of Carl Foreman's screenplay for High Noon follows Marshal Kane's storyline essentially in real time. Scenes without Kane build tension and back-story.

Act I establishes the danger to Kane, his conflict about leaving town or staying and Amy's conflict about violence. Act II establishes the drama around Kane trying to get the cowardly townspeople to help him. Act III quickly resolves the outcome for Marshal Kane and Amy. The sub-plot of Amy's pacifist nature and her love for Marshal Kane provides the ideal internal conflict for her and a motivation for her to rescue Kane.

The quality of the script was a significant factor in Gary Cooper winning the Academy Award for Best Actor in 1952. Contrast this screenplay with John Wayne and Director Howard Hawks' Rio Bravo from 1959.
Customer Reviews
There have been no reviews for this product.